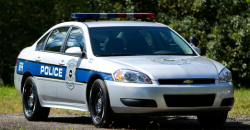 — If you're a cop and driving a 2008-2012 Chevy Impala, be extra careful if you're in a high-speed chase.
General Motors is recalling model year 2008-2012 Chevrolet Impala police vehicles because the front lower control arms can break.
If this occurs, the vehicle you're chasing will ride into the future while you are trying to control your vehicle.
GM will replace both front lower control arms once the recall begins, which should be August 21, 2012. For now, you can call 866-694-6546 and reference recall number 12104.
Please note the recall does not apply to non-police vehicles.