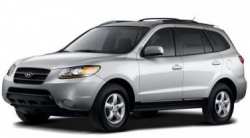 — Add another casualty to the long line of recalls due to malfunctioning air bags.
Hyundai is recalling model year 2007-2009 Santa Fe vehicles because the occupant air bag might not work because of something called the occupant classification system (OCS.)
Hyundai says the OCS may need to be repaired to detect smaller adults.
According to documents filed with the National Highway Transportation Safety Administration, an error in the OCS means the air bag can fail to deploy during a crash.
The affected vehicles were manufactured from April 19, 2006, through July 7, 2008, and involve approximately 199,000 vehicles.
Your dealer will update the software free of charge, however, Hyundai has not provided information about when the recall will start.
Owners should contact Hyundai at 800-633-5151 and reference recall number 105.