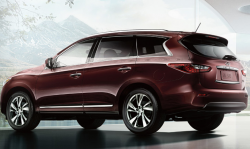 — Nissan hasn't had a good month with their 2013 model year Infiniti JX35.
The government is currently investigating complaints that the JX35 comes to a screeching halt by sensing a non-existent frontal crash, and now the National Highway Traffic Safety Administration has announced a recall of the 2013 Infiniti JX35 for fuel system problems.
The affected vehicles were manufactured from February 15, 2012, through June 22, 2012.
According to Nissan, the fuel transfer tube may be routed incorrectly inside the fuel tank.
Nissan believes the problem originated during assembly, and as a result, the fuel level float might be blocked from dropping as the fuel is used.
Simply put, your gas gauge could say you have fuel when you don't.
The recall is expected to begin Sept. 4, 2012. Your dealer will re-route the tube and install a new O-ring.
Contact Nissan customer service at 800-647-7261.