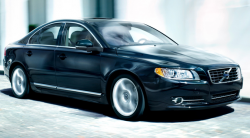 — Volvo is recalling certain model year 2011-2013 S80 vehicles due to possible errors that could cause transmission problems.
According to the National Highway Traffic Safety Administration, a software error could prevent the transmission from downshifting.
An example would be if you were coasting downhill at a speed where the transmission would normally downshift from fifth gear to fourth. The software glitch could block the downshift and cause the vehicle to stall.
This isn't the first time Volvo S80 owners experienced stalling vehicles. In fact, drivers have reported stalling issues on their vehicles going back to model year 2001.
"It stalls while driving on highway and city, I noticed that in the city it was after I removed my foot off the accelerator and was coasting," wrote Brent, of Mesquite, TX, about his 2001 Volvo S80.
In late 2006, Volvo announced a recall of model year 1999-2001 S80 vehicles to upgrade software to fix the problems Brent and other owners experienced.
Although this latest recall is unrelated to the previous recall, you'll still need to take the time to get your car to the dealer and wait for it to be fixed.
Volvo expects to begin notifying owners about July 19, 2012. Your dealer will upgrade the software that runs the transmission control module.
Contact Volvo at 800-458-1552.