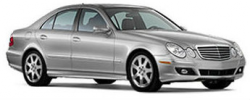 — Even expensive luxury cars aren't immune to problems and recalls. Just ask Mercedes-Benz.
The National Highway Traffic Safety Administration has announced that Mercedes-Benz USA will recall 2007-2009 E350 4MATIC wagons because of potential rear suspension problems. According to the government, a connecting rod for the load-leveling rear suspension system can break, which would cause the vehicle to lose its ability to level itself.
Once the self-leveling system is out of whack, the suspension could become stiff, or in extreme cases the air bellows could lose air pressure. The wagon wouldn't be easy to handle if the air bellows decided to lose pressure, however, Mercedes-Benz isn't aware of any cases in the U.S. where that has happened.
Mercedes says the problem vehicles were built between July 1, 2006 and April 30, 2009.
The recall should start in August, although owners can call Mercedes-Benz now at 201-573-0350.