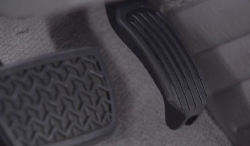 — Toyota recently made news that more of their vehicles would be recalled because of unintended acceleration problems, a story too familiar with Toyota owners.
Now a report from the Associated Press says that Toyota is taking more heat, this time from U.S. Sen. Charles Grassley.
According to the AP, Grassley, an Iowa Republican, is questioning the National Highway Traffic Safety Administration if previous studies really proved that acceleration problems were caused by sticky gas pedals and misplaced floor mats.
Grassley wants to know if some of the problems could have be caused by something called "tin whiskers."
Tin whiskers are tiny "whiskers" on solder points inside electronics. It's believed that in certain rare situations, these whiskers can cause electrical shorts in the circuitry of the vehicle.
In 2009, Toyota began a recall of over 14 million vehicles due to complaints of vehicles accelerating out of control. Subsequent studies by NASA and the government concluded that sticking gas pedals and floor mat entrapment of the gas pedal were the only known causes of the problem.
Both NASA and the government found no problems with electronics, including issues related to tin whiskers.
According to the AP, Sen. Grassley asked the government to respond by July 26.