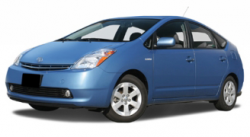 — Toyota announced today they will conduct two safety recalls involving about 670,000 model year 2004-2009 Prius vehicles in the U.S. to inspect and replace the steering intermediate extension shaft.
Toyota said insufficient hardness treatment of some of the extension shafts can cause the splines that connect the extension shaft to the steering gear box to deform if the steering wheel is frequently and forcefully turned to the full left or full right position while driving at slow speeds.
This deformation may create increased internal clearance and the splines may eventually wear out.
Toyota dealers will inspect the extension shaft to determine if it needs to be replaced and, if confirmed, will replace it. The inspection and repair will take approximately one hour depending on the dealer's work schedule.
Approximately 350,000 of these same Prius vehicles are also being recalled to replace the electric water pump for the hybrid system.
In the hybrid system, there is an electrically driven water pump that circulates coolant through the hybrid components to provide cooling.
There is a possibility that the electric motor installed in the water pump may stop functioning, leading to the activation of warning lights. In some cases, the electric power supply circuit fuse may open, causing the hybrid system to stop while the vehicle is being driven.
Toyota dealers will replace the electric water pump for the hybrid system. The repair will take approximately two hours depending on the dealer's work schedule.
Owners of vehicles will receive a notification letter starting in December, 2012. Any authorized Toyota dealer will perform these recalls at no charge to the owner.

Detailed information is available to customers at www.toyota.com/recall or by calling 800-331-4331.