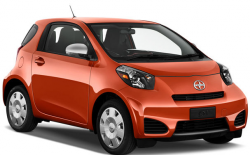 — Toyota today announced that it is recalling 11,200 Scion iQ vehicles in the U.S. to inspect the front passenger occupant classification system (OCS) weight sensor cables. The affected vehicles include certain 2012 and early 2013 models.
The front passenger seat assembly of the Scion iQ is equipped with sensors for the OCS which is used to control the operation of the front passenger air bags and seat belt pre-tensioner.
Cables for the sensors located in the seat track can hit an object placed near the seat track and become damaged as the front passenger seat slides forward or backward.
This could cause the air bags to fail in a crash, or cause a problem with the seat belt pre-tensioner.
Toyota says they aren't aware of any crashes or injuries so far.
Owners will be notified by mail starting in early December, 2012. The repair will take approximately one hour so the dealer can install new protective covers over the sensors.
Contact Scion at Scion at 866-707-2466.