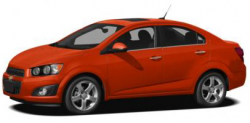 — General Motors has turn signal problems on their 2013 Chevy Sonic.
GM has announced a recall of certain model year 2013 Sonic vehicles because the driver might not know when a turn signal light is out.
When a turn signal light fails to operate, the body control module should sense the outage and let the driver know, but it's not. The affected vehicles were manufactured from May 29, 2012, through August 29, 2012.
Not only will the body control module need to be reprogrammed by your dealer, but you'll need to have the key fob reprogrammed, also.
GM expects the recall to begin on October 3, 2012. GM will send you an official notice, or you can call them now at 866-694-6546 and refer to recall number 12209.