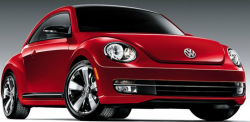 — Volkswagen of America is recalling certain model year 2012 Beetles because of tire problems.
According to the National Highway Transportation Safety Administration, some of the vehicles may be fitted with summer tires that fail to meet federal safety standards.
The wrong tire can cause the tire to become easily overloaded or under-inflated.
Volkswagen will replace the non-compliant tires at no cost to you, except your time and energy.
The official recall isn't expected to begin until September, 2012, but owners can contact Volkswagen now at 800-822-8987.
Give them recall number 44K8/W4.