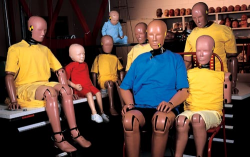 — The Insurance Institute for Highway Safety (IIHS) is known for their stringent testing of what happens to a vehicle when it's involved in a crash.
IIHS, an organization funded by insurance companies, is releasing a series of videos that show what happens during a car crash test. It might be scientific, but it sure isn't boring.
It turns out the crash test dummy of today is really a $200,000 mini-computer that can give researchers vital clues to the safety of an automobile and how automakers can create safer vehicles.
CarComplaints.com will add each video of the series as they become available.
The Crash Test Dummy
Frontal Car Crash Test
Measuring Roof Strength
Rear-End Crash Testing (Preventing Whiplash)
The Propulsion System
Children and Car Crash Safety
Side Crash Testing
Big Rig Rear Guard Testing