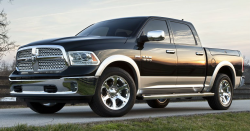 — Chrysler is recalling over 10,000 model year 2014 Ram 1500, 2500 and 3500 pickups because the instrument backlighting could fail. Chrysler said the problem was discovered by their quality-control workers and affects trucks equipped with mid-line instrument clusters.
A faulty instrument panel light might not seem like a big deal, but those lights must work per regulatory rules. Fortunately, most of the trucks are still on dealer lots and Chrysler said they are unaware of any accidents or injuries related to the problem.
Chrysler technicians believe the digital memory in some instrument clusters may not activate as it should, so dealers will update the cluster software during the recall.
Owners should expect a letter from Chrysler, although an exact date hasn't be released for the start of the recall.
With questions or comments, contact Chrysler at 800-853-1403.