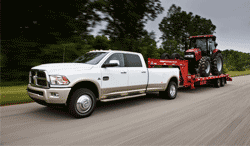 — At the same time Chrysler recalled 91,000 Jeep Grand Cherokees, the automaker said 1.2 million trucks will be recalled in three separate actions for tie-rod problems.
Approximately 968,000 vehicles are in the U.S.; 157,000 are in Canada; 37,100 in Mexico and 18,000 are outside those areas. If there is any good news from all this, Chrysler says 726,000 may not need repair, but they won't know until they check the trucks.
One recall will target 842,400 model-year 2003-2008 Ram 2500 and 3500 trucks to find 116,000 trucks that were repaired with tie-rod assemblies that could go out of alignment. The problem is serious enough to cause the tie-rod to break and cause a complete loss of steering control.
Two additional recalls will try to find vehicles known to have tie-rod assemblies linked to previous recalls. They include 294,000 model-year 2008-2012 Ram 2500 and 3500 pickups, chassis cabs and 2008 Ram 1500 4x4 Mega Cabs; plus 43,500 model-year 2008-2012 Ram 4500 and 5500 4x4 chassis cabs.
Chrysler is aware of six accidents and two injuries involving model-year 2008-2012 2500 and 3500 trucks.
Customers will be notified in December, 2013, but 4500 and 5500 models might not have the needed parts available until late 2014. That's a long time, so Chrysler says owners of those trucks can bring their vehicles to dealers for interim service.
The other trucks might be fixed by dealers in January, 2014, but Chrysler isn't even sure about that.
If you're one of the 1.2 million affected truck owners and have questions, contact Chrysler at 800-853-1403.