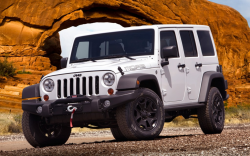 — Chrysler today announced they will recall over 630,000 vehicles worldwide on three models of SUVs. The action comes after another 500,000 Chrysler vehicles were recalled within the past two months.
Chrysler said leaking transmission fluid is the problem in model year 2012-2013 Jeep Wrangler vehicles equipped with a 3.6L engine and an automatic transmission.
The Wrangler recall affects 180,000 vehicles in the U.S. and manufactured January 23, 2011, through February 23, 2013.
Chrysler said the transmission fluid could leak because a power steering line may contact and wear a hole in the transmission oil cooler line.
The recall should start in July, 2013. Chrysler dealers will replace the power steering return tube assembly. Owners can contact Chrysler at 800-247-9753 and give them recall number N28.
The second recall affects over 254,000 model year 2010-2012 Jeep Compass and Patriot vehicles in the U.S.
According to documents filed with the National Highway Traffic Safety Administration, these vehicles have a software error that can cause a delayed or non-deployment of the seatbelt pre-tensioners and side airbags.
The affected vehicles were manufactured May 6, 2008, through July 20, 2012.
This recall should also begin in July. Chrysler dealers will install a fix to the software. With questions, call Chrysler at 800-247-9753 and reference recall number N01.