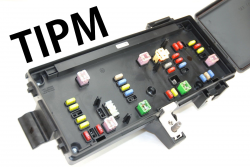 — A class-action lawsuit filed November 1, 2013, accuses Chrysler of ignoring problems with their model year 2008 Chrysler 300 and 2011-2012 model year Jeep Grand Cherokee, Dodge Grand Caravan, and Dodge Durango vehicles.
The lawsuit alleges the named vehicles have defective Totally Integrated Power Modules, also known as TIPMs. The TIPM controls and distributes power to all of the electrical functions of the vehicle, including the vehicle safety and ignition systems.
A defective TIPM can cause an inability to reliably start the vehicle and lead to, among other things, the vehicle not starting, the fuel pump not turning off and the engine stalling while driving.
CarComplaints.com has received many complaints alleging a problem with the TIPM, especially in the Jeep Grand Cherokee. One Flower Mound, Texas, Jeep owner described what it's like trying to get the needed part.
"The part is on backorder for MONTHS! And, Jeep does not care about its customers. We have been told that it will take 2-4 weeks for the part to arrive, and we are not being provided a free rental during this time. We are expected to wait a month, which from what I have read on forums, etc., may not be true, but more than likely will be 2 or 3 months, for the vehicle to be repaired."
Based on complaints filed with CarComplaints.com, the average TIPM repair cost for the 2011 Grand Cherokee is $1,200. Additionally, owners report the problems occur under 40,000 miles. Complaint data from the National Highway Traffic Safety Administration mirrors the reports filed with CarComplaints.com.
The lawsuit claims Chrysler is well aware of the problems with the TIPM because 80,894 Jeep Wranglers and Dodge Nitro vehicles were recalled in 2007 for the same problems. In that recall, defective TIPMs had a software problem that could cause the engine to stall.
A Chrysler spokesman said "it would be inappropriate to comment on this matter as it is currently in litigation."
If you bought or leased a Chrysler vehicle and are having issues with your vehicle's TIPM, or if you want to learn more about this case, please contact Girard Gibbs LLP at 866-981-4800 or by email at TIPM@girardgibbs.com
A copy of the class action complaint may be viewed here (PDF).