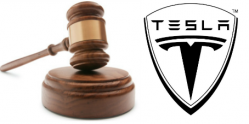 — Electric automaker Tesla has had one wild ride in 2013. After proclaiming their Model S as the "safest car in America" the National Highway Traffic Safety Administration opened an investigation into possible fire hazards in the Model S.
Before that, Tesla bragged how their car achieved a rating of 5.4 stars on government crash tests, even though the highest rating possible was 5 stars. That little marketing ploy convinced NHTSA to update their advertising guidelines.
While the current government investigation is still open, a class-action lawsuit has been filed in the U.S. District Court for the Northern District of California on behalf of buyers of Tesla securities from May 10, 2013, to November 6, 2013.
The lawsuit alleges Tesla gave false and misleading statements about its business operations and financial results. The lawsuit further alleges Tesla misled investors by failing to disclose there was a design defect in the lithium-ion battery pack which could cause a fire. The complaint says that as a result of claims made by Tesla, their securities traded at artificially inflated prices.
The lawsuit specifically charges Tesla with violations of the Securities Exchange Act of 1934. The lawsuit seeks to recover damages on behalf of all buyers of publicly traded Tesla securities. For more information or to join this class-action lawsuit, go to http://www.rgrdlaw.com/cases/tesla/.