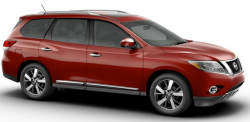 — The National Highway Traffic Safety Administration (NHTSA) has opened an investigation into possible transmission problems in 110,000 model year 2013 Nissan Pathfinder and Infiniti JX vehicles.
Owners complain their vehicles lose all power when the transmission fluid leaks out because the cooler line connection fails. Only five owners have complained about the problem, but NHTSA also spotted the problem in early warning reporting data submitted by Nissan.
Apparently, Nissan knows there is an issue because they issued a dealer service bulletin in July of 2013. The bulletin informed dealers how to recognize and repair a very similar problem in the 2013 Pathfinder.
At the same time, Infiniti issued a service bulletin to cover the same condition in JX models.
The investigation will try to verify if the alleged problem is an actual problem. In that case, 110,000 vehicles could be recalled.