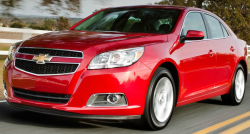 — What happens when U.S. safety regulators believe an automaker didn't do a good enough job on a safety recall? The National Highway Traffic Safety Administration opens what they call a "recall query" to confirm the recall remedy actually worked.
In early May, General Motors recalled over 38,000 model year 2012-2013 Chevy Malibu Eco, Buick LaCrosse and Regal sedans equipped with eAssist.
GM said they wanted to screen the generator control module and verify the module wouldn't overheat and cause a fire in the trunk. Dealers were to perform a safety test on the module and replace it if needed.
However, safety regulators discovered that prior to the recall, GM was informed of a fire in a vehicle that previously had the service update performed. That shows the so-called recall "fix" might not keep a fire from occurring.
The current investigation will determine if the vehicles need to be recalled again.