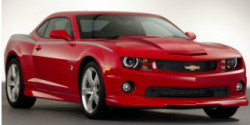 — The National Highway Traffic Safety Administration (NHTSA) wants to know if 400,000 General Motors vehicles should have been recalled during previous recalls.
The affected vehicles include the 2012 Chevy Camaro, Cruze, Sonic, and the Buick Verano.
GM recalled the Verano, Cruze, and Sonic in November, 2012, because the driver-side frontal air bag could fail to deploy in a crash. The problem was traced to a shorting bar that could contact the air bag terminals.
In January, 2013, GM recalled the 2012 Chevrolet Camaro, Cruze, Sonic, and Buick Verano for the same problem.
However, NHTSA thinks the previous recalls might not have been adequate and their investigation will determine if an additional 400,000 vehicles should be recalled.
CarComplaints.com will keep you posted when additional details are available.