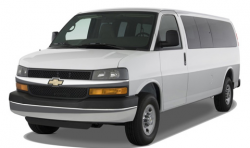 — It's not a big recall because it applies to only 48 vehicles, but if you're the owner of one, take note of the following.
General Motors is recalling 48 model year 2011 Chevy Express vans because natural gas could flow into the passenger compartment. One spark in the vehicle could blow the thing into thin air.
GM says the recall involves Express vehicles converted by Impco Automotive to run compressed natural gas and equipped with a four tank configuration.
The tanks use a pressure relief device and pressure relief vent pipe assembly, and it's the pressure relief vent pipe which may have been built wrong.
The recall should begin by the end of March, 2013. Impco Automotive and GM will make any necessary repairs on the pressure relief device and vent pipe assembly.
If you drive one of these vehicles, contact General Motors at 800-521-7300 and refer to recall number 13065.