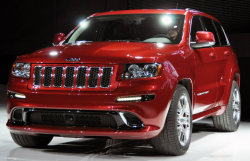 — Recalls related to fire hazards are, unfortunately, not uncommon. Those fires are typically associated with engines, wiring in doors, or fires related to areas of the fuel system.
But, fires coming from the headliner?
That's exactly what the National Highway Traffic Safety Administration is investigating after complaints about headliners catching fire in model year 2012 Jeep Grand Cherokee SUVs.
The government has received three complaints in the past four months about fires near the area of the passenger side sun visor. The Grand Cherokee drivers said they smelled a burning odor and could see smoke and flames coming from the headliner.
Lowering the windows to breathe made the problem worse because the air fanned the flames.
One fire caused the sunroof to shatter, and another fire caused the burning sun visor to fall and set the passenger seat on fire.
The federal investigation will determine if 146,000 Jeep Grand Cherokees need to be recalled before any more damage is done.