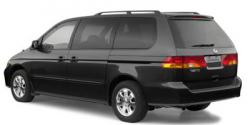 — Following a federal investigation into air bag problems in the Honda Odyssey, Honda is recalling 318,000 model year 2003-2004 Odyssey and 56,000 model year 2003 Acura MDX vehicles.
The National Highway Traffic Safety Administration opened the investigation three months ago after complaints about air bags deploying without a crash.
Additionally, over 40 owners complained the air bag warning light would come on for no apparent reason.
Honda says they have been receiving more complaints in recent months about unnecessary air bag deployments in the affected vehicles. Although people have faced the physical wrath of the air bags, Honda hasn't had reports of any crashes related to the problem.
Investigators believe the issue can be traced to electrical interference in the air bag system. Honda will install an electrical noise filter to try to fix the problem.
Owners should receive a recall notice toward the end of October, 2013.
Until then, if your air bag light is on or your air bag is punching you when it shouldn't, contact Honda at 800-999-1009 or Acura at 800-382-2238.