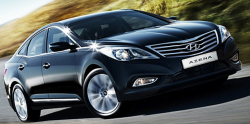 — Hyundai is recalling 5,200 model year 2012-2013 Azera vehicles because of air bag issues.
Hyundai says the occupant detection system can fail to tell the difference between an adult or child in the front passenger seat.
It might not sound like such a big deal, but if the passenger is incorrectly classified, the air bag could deploy with too much force, or too little.
The affected vehicles were manufactured May 22, 2012, through November 23, 2012.
Hyundai hasn't announced when the recall will start. Once you receive notification, Hyundai dealers will recalibrate the air bag system.
Until then, contact Hyundai at 734-337-9499 and give them the recall name, Campaign 111.