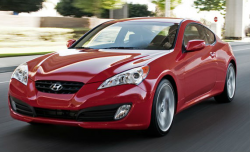 — Hyundai is in the news again just hours after the National Highway Traffic Safety Administration opened an investigation into brake problems in 40,000 model year 2009 Hyundai Genesis sedans.
It didn't take long for Hyundai to announce they are recalling over 27,000 of those vehicles to replace the brake fluid. The recalled cars were manufactured April 1, 2008, through March 16, 2012, and include model years 2009-2012.
Hyundai says the hydraulic electronic control unit is suspect and changing the brake fluid seems to fix the problem.
Hyundai knew of the problem because months ago they instructed dealers to replace the brake fluid of any cars that were brought in for brake problems.
Hyundai Genesis owners will be contacted by mail and instructed to visit a dealership to have the brakes inspected. At the least, the old brake fluid will be drained and replaced with a special fluid that contains an anti-corrosive additive.
Read about the federal investigation that prompted the Hyundai Genesis recall.