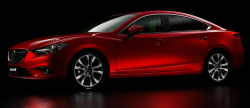 — Following a May, 2013, investigation into Mazda6 cars, the National Highway Traffic Safety Administration (NHTSA) has announced a recall of 161,000 model year 2009-2013 Mazda6 vehicles.
The investigation focused on complaints about doors that would mysteriously fly open. One person said their door flew open and the seat belt was the only thing that kept them in the car.
NHTSA says if all three door latch mounting screws become loose the latch mechanism won't work and the door will open. Not a good thing when traveling down the highway, especially with children or pets in the car.
The recall should begin by October 18, 2013. Mazda dealers will apply adhesive to the door screws to fix the problem.
If you're concerned your Mazda6 might have a screw loose, call Mazda at 800-222-5500 and give them recall number 7013I.