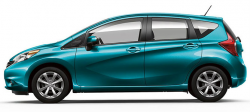 — Nissan is recalling over 14,000 model year 2014 Versa Note hatchbacks because bolts holding the rear seat latches might fail in a crash.
Nissan isn't aware of that happening, but said the latch bolts aren't the only issue.
There are other bolts that hold the body to the undercarriage and Nissan says those bolts might not be tight enough. In some cases, the bolts might be completely missing from the vehicle.
It wouldn't take much of a crash to cause serious problems to any back-seat passengers.
Nissan said owners will be contacted sometime in August, 2013. Nissan dealers will inspect the bolts (or lack thereof) and fix the problems.
Versa Note owners can call Nissan at 800-647-7261.