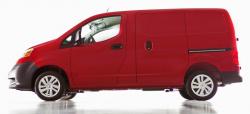 — Nissan is recalling over 2,500 model year 2013 NV200 compact cargo vans because of wiring problems that could cause the van to die on the road.
Nissan says the wiring harness that connects the fusible link to the battery fuse terminal is placed in a bad place on the van. If protective coating on the wires wears off, the exposed wires could touch a bracket that holds the fusible link and cause a short circuit. That could result in a blown battery terminal fuse and would disable the fuel pump and cause the engine to stop.
The recall should begin in the middle of December, 2013. Nissan dealers will inspect and reposition the wiring harness and apply a protective covering to the harness.
NV200 owners can contact Nissan at 800-647-7261.