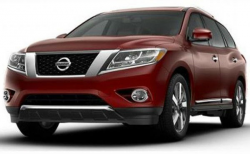 — Nissan is recalling over 2,300 model year 2014 Pathfinders, but here's something different. Only those with almond-colored interiors are being recalled. No other interior color is affected by the recall.
Nissan says the instrument panel tear seam on the passenger frontal air bag wasn't cut correctly on the back side of the instrument panel. That little problem could cause the air bag to deploy partially or not at all.
Nissan says the SUVs were manufactured from July 25, 2013, to September 5, 2013.
The recall should start in November, 2013. Nissan dealers will replace the instrument panel assemblies to make sure your air bag works like it should.
If you have a 2014 Pathfinder with an almond-colored interior, contact Nissan at 800-647-7261.