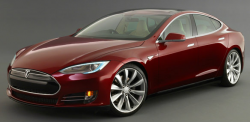 — Electric automaker Tesla is recalling over 1,200 model year 2013 Model S electric vehicles because the left hand seat-back can fly loose in a crash. The affected vehicles were manufactured May 10, 2013, through June 8, 2013.
Tesla said a weld between a bracket and the frame of the vehicle might not be strong enough. They blame it on a wrong method for aligning the left-hand seat-back striker to the bracket.
Tesla didn't say when the recall will start, but once it has, your car will be picked up and returned at no charge. Telsa will provide a loaner vehicle if you need it.
Owners may contact Tesla at 650-681-5000.