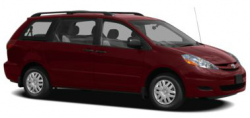 — Toyota today announced it will recall about 615,000 model year 2004-2005 and 2007-2009 Sienna minivans because they could roll away and out of sight.
Toyota said the shift lever assembly is the problem because the shift lock solenoid could allow the shift lever to move out of "Park" without pressing the brake pedal.
The 2004-2005 vehicles were manufactured January 10, 2003, through August 10, 2005, and model year 2007-2009 Sienna vehicles were manufactured February 20, 2007, through December 12, 2008.
Toyota doesn't know when parts will be available. The first recall notifications will be mailed in late October, 2013. Once parts are available, Toyota will notify Sienna owners a second time by mail and dealers will install a new shift lock solenoid.
With questions or concerns, give Toyota a call at 800-331-4331.