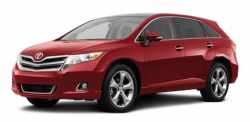 — Just in time for Halloween, Toyota is recalling over 803,000 cars because they are haunted by spiders.
The affected cars include model year 2012-2013 Camry, Camry Hybrid, Avalon, Avalon Hybrid, and Venza vehicles that have a problem with the air conditioning condenser unit housing.
Toyota found the problem when a vehicle owner complained about warning lights that came on for no apparent reason. An investigation revealed an air conditioning drain hose that was clogged by a spider web.
Toyota found water from the air conditioning condenser unit housing could leak onto the air bag control module and cause an electrical short. The short caused the air bag light to come on, and in some cases, the air bag could fail in a crash.
In other cases, the air bag could deploy without a crash. On top of that, the little spider web could cause the power steering to fail.
Time to call pest control? Not exactly. Toyota said they can fix the sticky problem by applying a sealant and installing a cover to the air conditioning condenser unit housing.
The National Highway Traffic Safety Administration hasn't released a recall schedule, but Toyota will notify owners by mail.
With questions, contact Toyota customer service at 800-331-4331.
For owners of some of the affected vehicles, they will receive two recall notices soon. Toyota recently recalled the 2013-14 Camry and Camry Hybrid, and the 2013 Avalon / Hybrid for windshield wiper problems.
No evidence the wiper issue was caused by spiders, though.