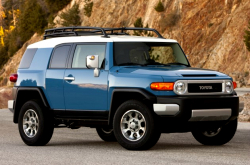 — Toyota is recalling 11,489 model year 2007-2013 FJ Cruiser vehicles equipped with Toyota auxiliary driving lamp kits mounted to the front bumper.
The National Highway Traffic Safety Administration says when those lights are on with the upper beam headlights, the combination is too bright and violate government safety standards.
The front bumper lights use 55-watt bulbs, which are about 20 watts more than allowed.
The recalled vehicles were manufactured January 25, 2006, through February 23, 2013. Toyota didn't say why it took six years to recognize the problem.
The recall should start in late May, 2013. Toyota dealers will replace the 55-watt bulbs with 35-watt bulbs.
With questions or concerns, contact Toyota at 800-331-4331.