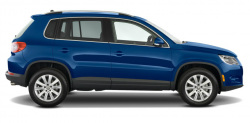 — Federal safety regulators have opened an investigation into why the exterior lights of the Volkswagen Tiguan can go completely out. The federal Office of Defects Investigation has received 26 complaints alleging a partial or complete loss of the vehicle's exterior lights in the 2009-2011 VW Tiguan.
Owners complain that more exterior lights can go out as the vehicles get older. Most of the complaints allege the culprit is an overheated and melted fuse in the under-hood fuse box. The specific overheated 30-amp fuse is tied to several exterior lighting circuits.
A Georgetown, TX, owner of a 2010 VW Tiguan told CarComplaints.com their entire fuse box melted.
"This was not a result of normal wear and tear. This is a basic design flaw by Volkswagen. After filing a complaint with Volkswagen, I was issued a $200 credit voucher toward further work. There have been numerous complaints raised on this issue with no changes."
Maybe now those complaints are getting the attention they need.
The federal investigation will try to determine if a safety defect exists and if 61,000 VW Tiguans need to be recalled.