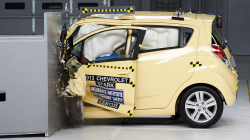 — The Insurance Institute for Highway Safety (IIHS) has bad news when it comes to the safety of minicars. IIHS says only one minicar out of 11 tested received an "acceptable" rating in the small overlap crash test. According to IIHS, these cars are the worst out of any type of cars tested so far.
The small overlap test replicates what happens when the front corner of a vehicle hits another vehicle or an object such as a tree or utility pole. In the test, 25 percent of a vehicle's front end on the driver's side crashes into a rigid barrier at 40 mph.
"Small, lightweight vehicles have an inherent safety disadvantage. That's why it's even more important to choose one with the best occupant protection," says Joe Nolan, IIHS senior vice president for vehicle research. "Unfortunately, as a group, minicars aren't performing as well as other vehicle categories in the small overlap crash."
One Bright Spot (Kind Of)
The Chevrolet Spark is the only minicar to earn an acceptable rating in the small overlap front test. The Chevrolet Spark's acceptable rating in the test, along with good ratings in the Institute's four other crashworthiness tests, earns the minicar a 2014 TOP SAFETY PICK award.
However, even though the Chevy Spark stood out against its competitors, it wasn't without its own problems. Every minicar, including the Spark, rated marginal or poor for structure, the most basic element of occupant protection. Risk of injury is high when a car's structure fails and can knock frontal airbags and seats out of position.
Where Did Things Go Wrong
All the vehicles, except the Spark and the Mazda 2, earned low ratings for restraints and kinematics. Seven of the 11 were downgraded for allowing too much occupant forward motion during the crash. Either the safety belt didn't do a good enough job holding the dummy in place, or the dummy's head missed or slid off the frontal airbag.
The side curtain air bag provided insufficient forward coverage in eight of the minicars and didn't deploy at all in the Toyota Yaris. In many models, the steering column moved sideways, and in three cars the seat tipped.
The two worst performers were the Honda Fit and the Fiat 500. In both cases, intruding structure seriously compromised the driver's space and the steering column was pushed back toward the driver. In the case of the Honda Fit, the dummy's head barely contacted the frontal air bag before sliding off and hitting the instrument panel. During the test of the Fiat 500, the driver door opened after the hinges tore.
In most cases, potential injuries involved the lower leg, but the Honda Fit, Fiat 500 and Hyundai Accent were downgraded for left thigh or hip injury. The Fit and 500 were the only vehicles to record elevated injury risk to the right leg.
Small Overlap Front Crash Test Ratings for Minicars
Unless specified, the following ratings apply to both 2013 and 2014 models. Here they are, listed from best ratings to worst: