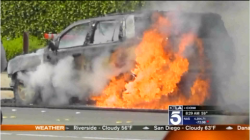 — Driving is dangerous, just ask the driver of a 2015 GMC Yukon who watched the SUV go up in flames during what should have been a routine test drive.
According to KTLA-TV, no one was injured when the 2015 GMC Yukon started shooting flames from near the engine compartment. Numerous people filmed the incident on a residential street in Anaheim, Calif., that showed flames engulfing the Yukon and tires exploding as the fire spread.
Firefighters told KTLA there might have been some type of oil or fluid leak that first caused the driver to lose control of the Yukon. Once the SUV was pulled to the curb, smoke flowed from the Yukon followed by a quick-spreading fire.
Watching a brand new vehicle go up in flames during a test drive isn't a good thing for any car, especially one with a base price of $50,000. It's especially bad PR for a company (GM) already facing lawsuits and government scrutiny for failing to recall cars with a known safety defect.
GM said they are investigating the Anaheim fire and release information once more is known.
CarComplaints.com will keep you posted with any further developments.
KTLA-TV 2015 GMC Yukon Fire