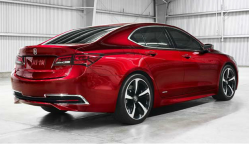 — The 2015 Acura TLX might be new, but it's already been recalled twice even before the year 2015 arrives. Acura says about 9,500 model year 2015 TLX cars might have transmission problems that might require a replacement of the entire transmission.
Acura says something happened during manufacturing that can cause the 9-speed automatic transmission to fail to properly shift into the "park" position. The TLX gear shifter might say the car is in park when it's not, so without the parking brake applied the car could roll away and into anything it wants.
The National Highway Traffic Safety Administration hasn't released transmission recall information about the 2015 Acura TLX, but the automaker said owners should get their cars to a dealership as soon as the recall begins in January 2015. An Acura dealer will inspect the automatic transmission and replace it if needed.
Although Acura said it's unaware of any accidents or injuries related to the defective transmissions, owners should make sure the parking brake is engaged every time the car is shifted into park.
The recall is expected to begin January 6, 2015. Owners of the 2015 Acura TLX can contact the automaker at 800-382-2238 and choose option 4.
In October 2014, Acura recalled the 2015 TLX to replace safety labels that were printed with the wrong gross vehicle weight and gross axle weight ratings.