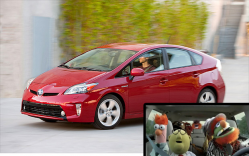 — Toyota was hoping 2014 would be the fresh start they needed after a few rough years. They settled some unintended acceleration lawsuits, were knocked off the top spot of "most recalls in 2013" by Chrysler and they even bought a well-received Super Bowl ad where the Muppets try and convince everyone that Toyotas aren't boring. Looking good, right?
Well, things have started to fall apart from there.
In the first two months of 2014 Toyota has issued a stop sale on six popular models because their heated seats could catch fire, faced litigation over a powerful new car smell that made someone sick and were among a group of cars that earned a worst safety rating in the IIHS' small overlap test.
So what else could go wrong? How about a major recall affecting 960,000 vehicles in the U.S. (2.1 million worldwide). Technically speaking Toyota announced two recalls today, both related to software glitches. The majority of the recalled vehicles include the 2010-14 Prius, while a smaller recall affects the 2012 RAV4, 2102-13 Tacoma and the 2012-13 Lexus RX 350.
Major Prius Recall for Software Glitch
The first recall involves 700,000 Prius hybrid vehicles in the U.S. (1.9 million worldwide) for faulty software in the car's hybrid-control system. The defect can cause transistors to overheat, activating warning lights and sending the car into what's known as "limp home mode." Cue the sad trombone.
According to a statement on Toyota's website:
"In rare circumstances, the hybrid system might shut down while the vehicle is being driven, resulting in the loss of power and the vehicle coming to a stop."
Rare or not, any problem that can stop your vehicle on the road is never good.
Safety System Shutdowns Recall
On the RAV4, Tacoma and RX350, there's a problem with circuitry that "can cause the Vehicle Stability Control (VSC), Antilock Brakes (ABS) and Traction Control functions to intermittently turn off." In other words, all those features that make your Toyota safer? They work ... sometimes.
The recall covers 260,000 model year 2012 RAV4, 2012-13 Tacoma and 2012-13 Lexus RX 350 vehicles.
The Fixes
The solution to both problems is a simple software update (hooray)! Unfortunately the software patches aren't ready yet (boo). Kind of makes you jealous that Tesla can send updates over-the-air.
Toyota says owners will receive notice by mail when the updates are ready. At that time, owners will be able to take their vehicles to Toyota and Lexus dealers for the free update. If you have questions or concerns you can visit www.toyota.com/recall or www.lexus.com/recall for more information or contact Toyota or Lexus directly at 800-331-4331 (Toyota) or 800-255-3987 (Lexus).