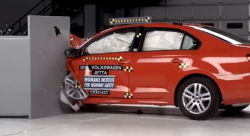 — Automakers depend on good crash-test ratings to protect passengers and avoid lawsuits, but a good rating is also a great marketing tool for selling the cars in the first place.
One test that many a manufacturer has faced (and failed) is the small overlap crash test, performed by the Insurance Institute for Highway Safety (IIHS). The test is meant to put a strain on the occupant compartment by replicating what happens when 25 percent of a vehicle's front-end on the driver's side plows into a rigid barrier at 40 mph.
Some manufacturers intentionally make improvements to their cars after performing poorly on the small overlap test, and IIHS says that's exactly what happened with the 2015 Kia Soul, Kia Forte and Volkswagen Jetta.
2015 Kia Soul / 2015 Kia Forte
The 2015 Kia Soul earned a "good" rating in the small overlap crash test after earlier model years performed poorly. IIHS says Kia engineers upgraded the front-end and occupant compartment for the 2015 model year, which made a huge difference in occupant safety.
The 2015 Soul didn't have a lot of intrusion into the driver's space and the movement of the dummy was well controlled. Measurements recorded on the dummy showed a low risk of serious injuries in this type of crash. Additionally, the side curtain air bag worked as advertised to protect the head from hitting the side of the car.
The 2015 Kia Forte didn't perform quite as well, but it did move from a "poor" to "marginal" rating. IIHS said Kia made the Forte occupant compartment stronger for 2015, but the driver's space still wasn't maintained well.
Furthermore, the dummy's head hit the instrument panel because the seat belt allowed too much forward movement and caused the head to slide off the front air bag. The dummy's head also wasn't protected well by the side air bag, although measurements indicated the risk of serious injury was still low.
2015 Volkswagen Jetta
Volkswagen took the Jetta from a "marginal" rating to a "good" rating after the 2015 model year had its A-pillars and door sills strengthened.
IIHS says the 2015 VW Jetta did well in maintaining the driver's space and measurements from the dummy indicated a low risk of serious injury. However, the dummy's head did slide off the front air bag and the seat belt extended too much and allowed the head and torso to move forward too much.
Better results were seen in the side air bag which deployed correctly and protected the dummy's head from hitting the side structure.
Owners of the 2015 VW Jetta have more good news because not only did the Jetta do well in the small overlap test, the car earned good ratings in four other crash tests. Additionally, the 2015 Jetta comes with an optional forward collision warning system, all of which earned the car a Top Safety Pick+ award.