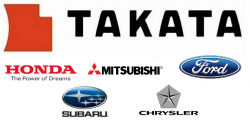 — More automakers have announced expanded Takata airbag recalls after the National Highway Traffic Safety Administration (NHTSA) told the automakers it would punish them if they didn't order the recalls.
Airbag manufacturer Takata has rejected demands to recall all affected airbags with defective metal inflators that can explode when the airbags deploy. Takata said the decision should be made by the automakers, not by Takata, and then Takata admitted it has no clue as to what is really causing the inflators to rupture.
The best guess is older inflators that are affected by moisture in areas of high absolute humidity, the reason many airbag recalls have applied only to vehicles in certain areas.
Many of the recalls announced today won't be good enough for NHTSA because out of five car companies, only Honda agreed to a nationwide recall.
Chrysler (149,000 Ram Trucks)
Chrysler announced it will replace the front passenger airbag inflators in over 149,000 older Ram trucks, an announcement that federal safety regulators said isn't good enough. NHTSA wants a nationwide recall of any vehicles with affected Takata airbags, but Chrysler says this newest recall won't be nationwide.
The automaker said the recalled trucks are the 2003 Ram 1500, 2500 and 3500 pickups sold or ever registered in Alabama, Florida, Georgia, Hawaii, Louisiana, Mississippi, Texas and the U.S. territories of American Samoa, Guam, Puerto Rico, Saipan, and the Virgin Islands.
Chrysler says it "continues to study this issue with great urgency." The automaker says data analysis indicates the front passenger-side inflators in the older Ram pickups are of a type that is not used in any of the other vehicles affected by Chrysler's regional recall.
The Ram recall is expected to begin January 19, 2015. Confused customers should call 800-853-1403.
Ford (38,000 Trucks and Cars)
Ford said it will expand a recall of passenger-side airbags in over 38,000 model year 2004-2005 Ford Ranger and 2005-2006 Ford GTs. As with many of the other recalls announced by other automakers, it's expected this recall won't be good enough for NHTSA.
Ford says the expanded recall will still be only a regional recall of vehicles sold in Florida, Hawaii, Puerto Rico and the U.S. Virgin Islands. It also includes certain areas with high humidity within Georgia, Alabama, Mississippi, Louisiana, Texas, Guam, Saipan and American Samoa.
Ford didn't say when the recall will begin.
Honda (5.4 Million Vehicles Total to Date)
Honda said it will expand its regional Takata airbag recall to a nationwide recall to replace driver-side airbag inflators. Saying Honda will work with multiple suppliers to increase parts availability, Rick Schostek, executive vice president with Honda North America, said he has doubts that Takata can keep up with demand for new inflators.
Schostek made the announcement to members of the U.S. House Committee on Energy and Commerce in response to pressure to expand the previous regional recall.
Even though Honda has admitted it failed to report 1,729 injuries and deaths to U.S. safety regulators over a period of 11 years, Mr. Schostek said Honda is taking action "because our customers have concerns and we want to address them."
Honda names the vehicles as the:
2001-2007 Honda Accord with 4-cylinder engines
2001-2002 Honda Accord with V6 engines
2001-2005 Honda Civic
2002-2006 Honda CR-V
2003-2011 Honda Element
2002-2004 Honda Odyssey
2003-2007 Honda Pilot
2006 Honda Ridgeline
2003-2006 Acura MDX
2002-2003 Acura TL
2002 Acura CL
Mitsubishi (Undetermined Number)
Mitsubishi has ordered a regional airbag recall that is an expansion of a previous recall conducted in July 2014.
Mitsubishi doesn't know how many vehicles will be recalled, but the action involves only the 2004-2005 Lancer manufactured August 4, 2003, to December 10, 2004.
The recalled vehicles include those originally sold, or ever registered in Alabama, Florida, Georgia, Hawaii, Louisiana, Mississippi, South Carolina, Texas, Puerto Rico, U.S. Virgin Islands, Saipan, Guam, and American Samoa.
Mitsubishi hasn't released a schedule of when the recall will begin, but dealers will need to replace the passenger airbag inflator. Owners can contact Mitsubishi at 888-648-7820 and refer to recall number SR-14-012.
Subaru (Undetermined Number)
Subaru is recalling model year 2003-2005 Legacy, Outback, Baja, 2004-2005 Impreza (including WRX/STI), and 2005 Saab 9-2X vehicles to replace the passenger front airbag.
Subaru says this is an expansion of a previous recall from July, but it's likely the National Highway Traffic Safety Administration will push Sabaru to recall the vehicles nationwide.
Until that occurs, Subaru says the recalled vehicles are those sold, or ever registered in Puerto Rico, Hawaii, the U.S. Virgin Islands, Guam, Saipan, American Samoa, Florida and adjacent counties in southern Georgia, as well as the coastal areas of Alabama, Louisiana, Mississippi and Texas.
Subaru hasn't said when its recall will begin, but Subaru owners should watch for mailed notification directly from Subaru, while Saab owners will be notified by General Motors.
Owners can contact Subaru at 800-782-2783 and Saab at 800-955-9007. Subaru's number for this recall is WQP-51.