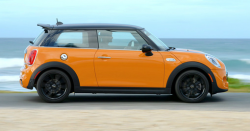 — Front passenger air bag problems have caused BMW to issue a very small recall of 27 model year 2014 MINI Cooper Hardtop and BMW i3 vehicles. The affected BMW i3 was manufactured during one day, March 31, 2014. The recalled MINI Cooper was manufactured February 2, 2014 to May 30, 2014.
BMW tracked the faulty air bags specifically to those manufacturing dates when the air bag inflator wasn't put together correctly by the supplier. That supplier is Takata, the company responsible for the recall of millions of cars, including over 1.6 million BMW vehicles.
The air bag inflators on the passenger side of the i3 and MINI Cooper could explode in a crash and send metal flying into flesh. BMW dealers will need to replace the entire front passenger air bag.
The MINI Cooper Hardtop and BMW i3 recall will begin this month. Affected owners who have questions should contact BMW at 800-525-7417.