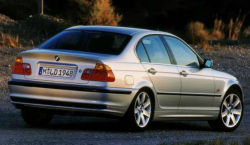 — After recalling 46,000 cars last month for explosive air bags, BMW is expanding the recall to include 1.6 million model year 2000-2006 3-Series cars.
BMW recalled over 200,000 cars in 2013 for the same problem. That problem is Takata, the supplier of air bags that have faulty air bag inflators, metal canisters that can explode when the air bags deploy.
BMW--along with Honda, Toyota, Subaru, Mazda, and Ford--recently recalled vehicles in high-humidity areas based on testing that showed moisture could cause problems with the inflators. However, BMW has decided to recall the cars worldwide and make sure every problematic air bag is repaired.
The Takata air bag defect is a perfect example of the wide-ranging problems that can occur when automakers use the same parts supplier. Since mid-2013, over 6 million cars have been recalled because flying metal from the exploded canisters could cause occupants more harm than one might receive from a car crash itself.
BMW dealers will replace the passenger-side front air bags, a job that will take about an hour to perform. BMW expects the recall to begin in October, 2014. Owners may contact BMW customer service at 800-525-7417.
None of this is good news for an automaker that was sued for allegedly causing the death of a 14-year-old girl in a hot car.
To read owner-reported complaints and reviews about BMW 3-Series cars, click a model below.