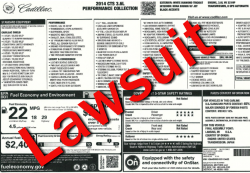 — A federal judge has denied a motion to dismiss a Cadillac window sticker lawsuit that alleges General Motors sold cars with window stickers that included false safety ratings.
The original Cadillac window sticker class-action lawsuit was filed by Geri Siano Carriuolo, who purchased a new 2014 Cadillac CTS sedan in Florida. An amended complaint then added a Tennessee customer who purchased a 2014 Cadillac CTS and who claimed the window sticker had false safety ratings.
The lawsuit alleges the window sticker, called a Monroney sticker, displayed the Cadillac CTS had 5-star crash-test safety ratings from the National Highway Traffic Safety Administration. The sticker said the CTS had achieved 5-star safety ratings in three categories: Frontal Crash Driver, Frontal Crash Passenger and Rollover.
However, Carriuolo said she received a letter from GM four months later that said her 2014 Cadillac CTS hadn't received any government safety ratings. In fact, the car hadn't even been tested by the government when Carriuolo bought the car.
The 2014 Cadillac CTS was eventually awarded a 5-star "overall" safety rating, but only four stars in the "Frontal Crash" category. However, those ratings were achieved after the cars were advertised and sold with the 5-star ratings.
Saying GM gave customers a false sense of security and safety, the lawsuit alleges GM's error caused further damage by decreasing the value of the cars. The complaint says GM violated the Florida Deceptive and Unfair Trade Practices Act, the Tennessee Consumer Protection Act and Unjust Enrichment under both Florida and Tennessee Law. Further, the lawsuit alleges GM profited at the expense of customers by selling cars with false window sticker safety ratings.
GM filed the motion to dismiss by alleging the plaintiffs didn't state a claim under state laws and the incorrect Cadillac window stickers were caused by a simple "inadvertent error."
District Judge James I. Cohn ruled the lawsuit can proceed based on the claims originally set forth in the complaint. Cohn said it seems "reasonable that representations concerning the safety rating that a government agency assigned to a vehicle are material and that overstating this vehicle's safety ratings substantially harms the vehicle's purchaser."
The GM / Cadillac window sticker class-action lawsuit was filed in the U.S. District Court for the Southern District of Florida - Geri Siano Carriuolo, et. al., v. General Motors Company, LLC.
The plaintiffs are represented by Liggio Benrubi, Clark, Fountain, La Vista, Prather, Keen & Littky-Rubin, and Shapiro Haber & Urmy LLP.
To read what owners say about their Cadillac CTS cars, click here.