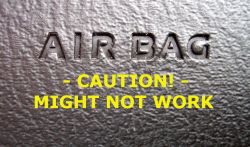 — General Motors isn't the only organization feeling heat for the debacle of waiting over 10 years to recall 1.3 million cars. GM recalled the cars after reports of 13 front-seat fatalities and 31 accidents where the air bags didn't deploy because the ignition switch wasn't in the "run" position.
The recalled cars include the 2003-2007 Saturn Ion, 2006-2007 Chevy HHR, 2006-2007 Pontiac Solstice, 2006-2007 Saturn Sky, 2005-2007 Chevy Cobalt and the 2007 Pontiac G5.
Now, the Center for Auto Safety (CAS) wants to know why the National Highway Traffic Safety Administration (NHTSA) didn't take action years ago after receiving complaints about air bag failures in some of the recalled GM vehicles.
CAS says an investigation of the government's Fatal Analysis Reporting System (FARS) indicates 303 fatalities in model year 2005-2007 Chevy Cobalt and 2003-2007 Saturn Ions - the same cars recently recalled for ignition switch failures.
In a letter to NHTSA, CAS says 303 front seat occupants were killed in those cars and in every case the air bags failed to deploy. However, CAS has not attributed the air bag failures to a problem with the ignition switch.
CAS says the government should have opened an investigation into air bag failures years ago and safety regulators should have researched which air bags failed because of the ignition switch defect.
"...the only way NHTSA could not see a defect trend is if it closed its eyes." - Center for Auto Safety
We're Sorry, Here's Some Money
In the mean time, GM is offering a $500 cash allowance to current GM owners affected by the recall and who want to buy or lease a new GM vehicle, at least through April 30, 2014. Additionally, for anyone affected by the ignition switch recall, GM will provide a loaner car until their recalled car is fixed.