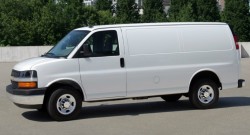 — A natural gas leak around your home is a dangerous situation, but what if your vehicle had natural gas leaking inside the passenger area or under the hood? One flick of a lighter or spark could send the vehicle into the next county. General Motors says that's a possibility with its 2011-2014 Chevy Express and GMC Savana compressed natural gas vans.
GM says almost 3,200 of the vans have a compressed natural gas high pressure regulator that might leak. GM learned of the problem in March 2014 when the owners of a van reported a leaking regulator earlier in 2014.
GM initiated an internal investigation and found 30 cases of natural gas leaking from the regulators. GM traced many of the defective regulators to vans that previously had solenoid replacements, but the automaker couldn't say if that's what caused all 30 of the regulators to leak gas.
GM is warning owners of the 2011-2014 Chevy Express and GMC Savana vans to immediately park them if natural gas can be smelled anywhere near the vans. Additionally, let a tow truck haul the van to a GM dealer instead of creating a fire hazard by starting the vehicle.
The National Highway Traffic Safety Administration says GM hasn't said when the recall will begin. Owners of the Express and Savana should watch for mailed notification from GM. Dealers will replace the natural gas high pressure regulator at no cost.
If you think your regulator might be leaking, call Chevy at 800-222-1020 or GMC at 800-462-8782 and refer to recall number 14321.
This isn't the first time GM has recalled the Chevy Express because of leaking natural gas. In March 2013, GM recalled a small number of model year 2011 Chevy Express vans because natural gas could seep into the passenger cabins.