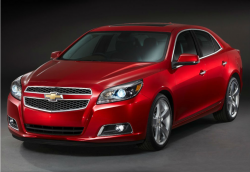 — General Motors recalled its 2014 Chevy Malibu mid-size sedans about a week ago because--[cough]--the rear brake rotors were installed on the front of the cars.
Now GM has announced another recall of its 2014 Malibu, and again for brake problems. Over 140,000 cars will need to be fixed because the brake vacuum hose can come loose and lead to reduced braking ability.
The affected Malibus were built June 12, 2013, through May 2, 2014, and are equipped with 2.5-liter four-cylinder engines and the automatic stop/start feature.
GM dealers will need to reprogram a control module, but the National Highway Traffic Safety Administration (NHTSA) has not said when that will happen.
GM expects to at least start mailing owner notifications on May 30. CarComplaints.com will update the recall once NHTSA releases additional information.