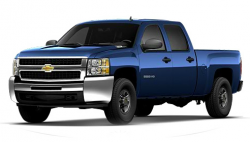 — A day after recalling 124,000 vehicles with seats that could detach from the cars, and two days after recalling 57,000 Impalas for steering problems, General Motors is recalling 9,300 trucks over a risk of fire.
GM said the recalled trucks are the 2007-2011 Chevy Silverado HD 2500/3500 and GMC Sierra HD 2500/3500 equipped with an auxiliary battery.
GM says too much current could be drawn through the trailer harness and melt the fusible link for the auxiliary battery. The melted link could damage the cover over the electrical center, a wiring harness and any other components nearby. Owners wouldn't know they are overloading the system because the owner manual does not specify a maximum amperage rating for the auxiliary battery feed to a trailer harness.
The risk of fire is very real because GM is aware of four reports of underhood fires from an auxiliary battery fusible link wire melting.
GM hasn't said when the truck recall will begin, but dealers will replace the jumper harness with one that includes a 40 amp inline fuse. Each owner will also be provided an insert to add to the owner manual.
If you own one of the recalled Chevy Silverado HD 2500/3500 trucks or GMC Sierra HD 2500/3500 trucks, call Chevy at 800-222-1020 or GMC at 800-462-8782. GM's recall number is 14260.
Read what owners say about their Chevy trucks: