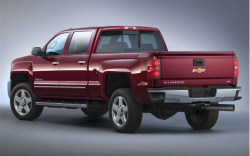 — General Motors is recalling 57,000 model year 2015 heavy-duty trucks because the power steering fluid could leak and cause failures of the power steering and power brakes without warning.
GM says the recalled trucks are the 2015 Chevrolet Silverado 2500 and 3500 HD, and the 2015 GMC Sierra 2500 and 3500 HD. The problem is caused by a simple hose clamp that can loosen and detach from the power steering pump or gear.
GM learned of the defect from a warranty claim and tracked the hose clamp failure to the Indiana assembly plant. Workers were retrained about the proper way to secure the clamp, but GM later learned about a customer who lost their power steering and brakes from a loose clamp.
The recall should begin in August 2014, when GM dealers will make sure the hose clamps are secured. Chevy Silverado 2500 and 3500 owners can contact customer service at 800-222-1020 and GMC Sierra 2500 and 3500 owners can call 800-462-8782.
GM's hose clamp recall number is 14356.
The 2015 Chevrolet Silverado and GMC Sierra have already faced the recall chopping block in May, again for loose parts. In that recall, loose fuel pipe connections could cause gas to leak at the fuel transfer pump and cause a fire hazard.