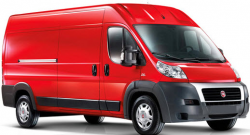 — Chrysler is recalling the 2014 Ram ProMaster van for the fourth time this year, not a good pattern for owners of the 2014 ProMaster.
According to the National Highway Traffic Safety Administration, over 31,000 model year 2014 Ram ProMaster vans might have been built with head restraints that allow an occupant's head to move backward too much. Based on federal safety standards, the maximum limit is 55 millimetres (2.1 inches) of rearward head movement. Anything above 55mm increases the chance of injury if the van is struck from behind.
Chrysler says it is unaware of any accidents or injuries potentially related to the defective head restraints.
Although Chrysler decided to order this recall over a month ago, the automaker still hasn't released information about when the recall will begin. However, dealers will need to replace the head restraints in all affected Ram ProMasters.
Owners of the recalled vans can contact Chrysler customer service at 800-853-1403 and give them recall number P53.
Other 2014 Ram ProMaster Van Recalls: