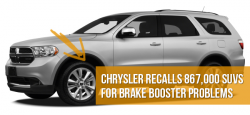 — Chrysler will recall 867,795 model year 2011-2014 Jeep Grand Cherokee and Dodge Durango SUVs to install a shield that protects their brake boosters from corrosion caused by undue water exposure. The recalled vehicles were manufactured from January 5, 2010, through September 8, 2013.
Chrysler says they received complaints about stiff brake pedals and opened an investigation that found brake boosters with small crimp joints that could corrode from water. Once water enters the boosters through the joints, the brake pedal could be difficult to depress if the water freezes.
Chrysler knows of one accident caused by the defect, but no injuries have been reported.
The recall is expected to begin in May, 2014. Chrysler dealers will confirm the booster can hold an acceptable amount of vacuum pressure then add a water diverter shield to the booster. The booster will be replaced if it can't hold vacuum pressure.
Owners of the 2011-2014 Jeep Grand Cherokee and Dodge Durango can contact Chrysler at 800-853-1403. Chrysler's recall number is P14.