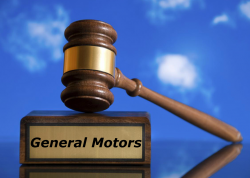 — If GM management expects clear skies and smooth sailing any time soon, they might want to lower their expectations. Another class-action lawsuit has been filed over GM's ignition switch defect, this time on behalf of Pennsylvania resident Chris Shollenberger.
The law firm of Chimicles & Tikellis LLP alleges the planned replacement of the ignition switch in 2.5 million GM cars isn't enough to fix the problem.
The lawsuit says plaintiff Shollenberger was injured in a one-car accident as the result of the ignition switch defect. According to Shollenberger, his 2006 Chevrolet Cobalt kept shutting off which disabled the power steering. After the accident, Shollenberger had to buy the replacement parts to fix the Cobalt.
The lawsuit seeks to recover damages for the diminution in value, including in the value of the keys that can no longer be connected to a key chain while in the ignition. The suit also seeks recovery of all out of pocket expenses related to the defective ignition switch.
While GM has agreed to recall 2.5 million cars to replace the ignition switch with a new switch, the lawsuit alleges more should be done. Specifically, the lawsuit says the ignition switch is only one cause of the problem and a completely new design should be implemented by GM.
Chimicles & Tikellis says owners have driven their cars less than they otherwise would due to fear of being in an accident. Further, the lawsuit accuses GM of "fraudulent concealment" by hiding the defect from customers and safety regulators.
"In the absence of a class action, GM would be unjustly enriched because it would be able to retain the benefits and fruits of its wrongful conduct." - Chimicles & Tikellis
Learn more about the ignition switch lawsuits at the Chimicles & Tikellis website.